Every Moment Counts...Every Woman Counts!
Welcome to the Estrella Mountain Women & Ministry Page!
We strive to make Every Moment Count and we believe that Every Woman Counts!
Here are ways to connect and get involved...
*Join the Estrella Mountain Church Women & Ministry private FB group here www.facebook.com/groups/EMCWomensMinistry
In this private group you can share praises, prayer requests and connect with other women from EMC.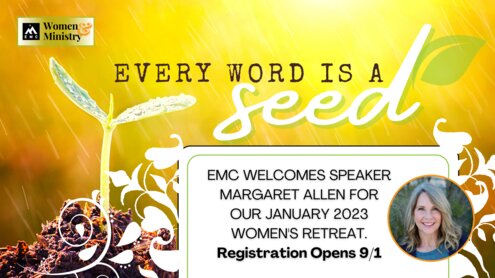 EMC Women's Ministry is hosting a local, 2-day retreat!
January 20th - 21st at EMC
Every Word is a Seed: How Seeds of grace are planted in our life and the lives of others when we use the word of God to nourish our soul.
Margaret Allen, author, speaker, philanthropist and mentor, invites you to sprinkle seeds of grace throughout your life, from softening your self-talk to embracing truthful and compassionate interactions with others. Planting these seeds from God's word in your life will inspire and refresh your spirit!
We will have 3 Teaching Sessions, Group Discussions, Fellowship, Worship, Lunch & Snacks
Friday 7:00 PM - 9:00 PM | Saturday 9:00 AM - 3:00 PM
Registration Is Now Open: https://bit.ly/3cou9s7
Registration: 10/2 - 11/30 $70
Late Registration: 12/1 - 1/8 $75
If you would like to pay by cash or check please register in the courtyard between services on 11/27 or 1/8.
Bible Study
Join us Mondays at 6:30 PM or Fridays at 9:30 AM.
The Monday evening group meets at 6:30 PM in the youth room. On November 28th, they will begin an Advent study, The Wonder of Advent by Lifeway Women. Contact Sabrina Cohen with questions at scohen25@yahoo.com.
The Friday morning group meets at 9:00 AM in 214. They currently doing Jesus and Women by Kristi McLellend. Contact Linda Gammon with any questions at lindagammon8@gmail.com.
Getting Healthy
Meeting the second and fourth Wednesday at 6:00 PM in the church office conference room.
A group of women meet on the second and fourth Wednesday of the month to discuss health and nutrition. Melissa DiLuzio is a certified holistic health coach and is teaching the group about nutrition! Prayer, encouragement, and accountability are also important parts of the group.
Questions? Contact Kristine Harkins kristine@dcharkins.com
Questions about Women's Ministry? Contact Wanda at wandakerb@gmail.com. Let's stay connected!